Housing Society Electricity Saving Tips- How to Purchase a Ceiling Fan for Apartments
When your apartment association members are thinking of drawing up energy saving tips for all residents, include the ceiling fan into the list if someone else already hasn't. Ceiling fans should form an important part of your standard home appliance installations. Even if every house in your housing society has a centralized air-conditioner, it cannot beat the value that a ceiling fan provides. The running cost of a Ceiling Fan is almot 25 times lower than that of Air Conditioner.
Ceiling Fans – What They Do
Ceiling fans do not cool the air the way an air-conditioner does. Instead, they move around the air inside the room and blow the air all over the place so that a steady breeze is created. People within the room keep their cool through sweating and evaporation. In hot weather, your body sweats a lot in an attempt to cool off. Ceiling fans help your body cool off by blowing the air on you and evaporating the sweat.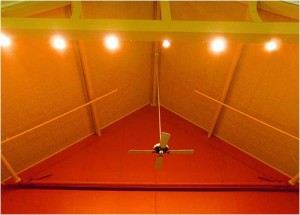 Ceiling fans just move around the air that is already there in the room, so if you have allowed the room to heat up because you've not weather proofed your windows and ceilings, the fan will just blow down hot air on you and make you feel hotter. To make sure that all residents get maximum benefits from their ceiling fans, ensure that every residence in your housing society uses sun reflective covers on the windows and weather proofs the roof.
Ceiling Fan Buying Tips
Fans now come in a wide variety of colors and styles. You can get fans with lights, decorative fans, simple but aesthetic and efficient fans, you name it. Gone are the days when you had to go out and buy a three bladed white ceiling fan that weighed about a ton. Now, you can shop around for fans that will add to your interior décor, and make you feel cool in more ways than one.
Look for the Noise Factor – Inexpensive fans do not incorporate noise reducing features.  So switching on a ceiling fan can make you want to use ear plugs to shut out the noise. Make sure your fan has noise suppression built in.
Consider the Blade Pitch – Look for a good blade pitch. The blade pitch is the angle of the blade in relation to the fan. This helps to move the air effectively.  A blade pitch of 10 or twelve degrees is considered good.
The Importance of the Motor – The fan's motor should match the blade pitch and length. That is, it should be bigger if the blade has a higher pitch and the blade is longer. There is no point in buying a fan with a good pitch and blade length, if the motor can't run it well.
Choose a Good Fan Size – Ceiling fan sizes are measured from the tip of one blade to the tip of the opposite blade. Size should be an important factor in buying a ceiling fan. The size of the room, how clear the space is, how high the ceiling is should all be taken into consideration. Generally, for your living room, buy a larger fan. Get a medium sized fan for your bedroom. Buy smaller sizes for kitchen or the bathroom.
The Down Rod – Match the size of the down rod to the height of the ceiling. If you have a high ceiling, you are going to need a longer down rod for the fan to be effective. Don't make the fan hang too low. Someone could accidentally put up their hand and get it caught in the rotating blades.
Ceiling Fan Controls – Fans generally come with a wall mount dial control for controlling speed. Newer fans can also come with a remote control. Comes in handy in bedrooms if you have a faulty design of the electrical wiring where you need to get out of the bed to reach the switch board
Lights or No Lights – If your fan comes with light fixtures, make sure the fixture can accept CFL bulbs.
Saving Electricity With Ceiling Fans
Using ceiling fans is a good way to cut down on power consumption. When it is comparatively cooler, you can switch off the AC and use the fan. You can also supplement the functioning of the AC with a ceiling fan's ability to rotate the cooled air and spread it around the room. Also, once the AC has cooled down the room, you can switch it off and use the fan for a while. The housing society association can highlight the importance of having ceiling fans by promoting their power saving factor.
---
This article aims at collating and providing information for benefit of ApnaComplex customers and blog readers. While ApnaComplex has taken every care to ensure the information is accurate, we suggest to please use it only as a guidance for further discussion and action with help of relevant professionals.

ApnaComplex is India's most comprehensive and value-for-money housing society / apartment accounting and management software. Read what some of our customers say about ApnaComplex and its features. There is a a 30-day no obligation free trial for every complex. Go ahead and register your complex and see how you can manage your complex more easily, efficiently, and effectively.